Shops where you can eat treats, shops you can buy
Shirakawa-go, Gasshozukuri Minkaen
Shirakawa Village, Ono County
Address
:
2499 Ogi-machi, Shirakawa Village, Ono County[Map]
Phone Number
:
05769-6-1231
Opening Hour
:
8:40~17:00 (March~November) / 9:00~16:00 (December~February)
Holiday
:
No holidays (during April to November), Thursdays (during December to March)
Parking Capacity
:
240 cars at Seseragi Park Parking available (8:00~17:00)
| | |
| --- | --- |
| Access | Approx. 10 minutes by car from Tokai-Hokuriku Expressway "Shirakawago IC" |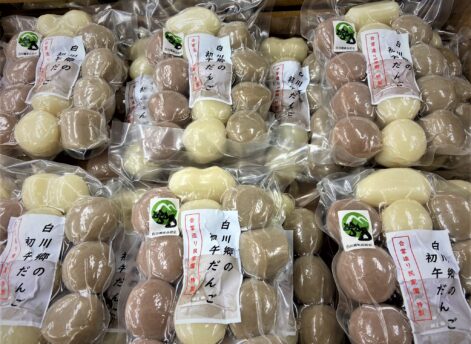 The traditional flavor is carefully crafted into each one
In Shirakawa-go, people have been eating dumplings by making dumpling soup served with tofu and green cabbage, putting them in zenzai and oshiruko after grilling them, or dipping them with miso or sugared soy sauce. We also recommend frying them and topping them with daikon radish and tempura sauce, or boiling them and then grilling them in a toaster with cheese, ketchup, salt, and pepper.
Service period
:
January 25 to late February
Please call us to confirm.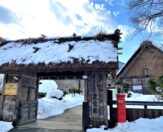 In addition to the main building, there is a shrine, the main hall of a temple, a water mill, and other historical buildings. There are also workshops where you can try your hand at various things like making soba (buckwheat) noodles or straw crafts from April to October.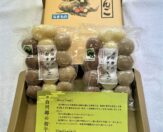 This set includes the following dumplings, 4 Kome (rice) dango, 4 Kibi (millet) dango, 4 Soba (buckwheat) dango, and 1 Mayu (cocoon-shaped) dango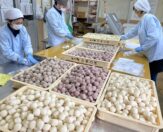 The dumplings which were left to rest overnight are bagged by hand after sifting powder.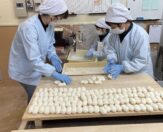 Mayu dango takes the most effort because we shape them into cocoons by hand.