Shops where you can eat treats, shops you can buy
Road Station Nanamori Kiyomi Ajisai Nanamori
Kiyomi-cho, Takayama City
Address
:
2145 Kiyomicho-Makigahora, Takayama City[Map]
Phone Number
:
0577-68-0022
Opening Hour
:
11:00~17:00(LO.16:30) / April to mid-November
11:00~16:00(LO.15:30) / mid-November to March
Holiday
:
December 31 to January 1
| | |
| --- | --- |
| Access | From Tokai-Hokuriku Expressway/Chubu Jukan Expressway "Hida-Kiyomi IC", take Chubu-Jukan Expressway and get off at "Takayama-nishi IC" exit (the shop located in front of "Takayama-nishi IC" exit) |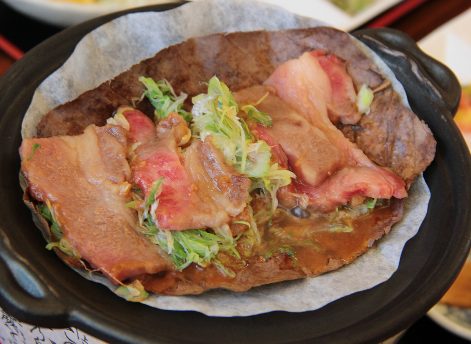 Enjoy A5-ranked Hida beef sparerib with an original miso taste
"Hida beef hohba miso set meal" was created to promote the local beef of Hida breed seasoned with locally developed hohba miso paste. It is our signature dish since the opening in 1999 which brings back our customers repeatedly for the delicious miso.
Service period
:
All year round
Please call us to confirm.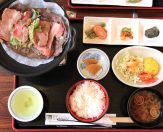 Set meal comes with 3 side dishes and pickles all from local vegetables.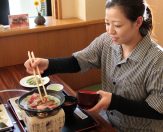 Hand-prepared miso is popular also in the gift shop.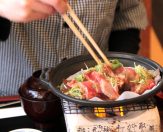 Hohba flavor enhances the taste of Hida beef.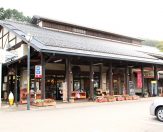 Get brochures, discount coupons, etc. at the tourist information center next to us.
Shiroyamakan
Shirakawa Village, Ono County
Address
:
1168-1 Ogi-machi, Shirakawa Village, Ono County[Map]
Phone Number
:
05769-6-1007
Opening Hour
:
9:00~20:00 (for accomodation reservations)
Holiday
:
Irregular holidays
Access
Approx. 5 minutes by car from Tokai-Hokuriku Expressway "Shirakawago IC"
Highway express bus: take bus from Nagoya Station, get off at "Shirakawa-go" bus stop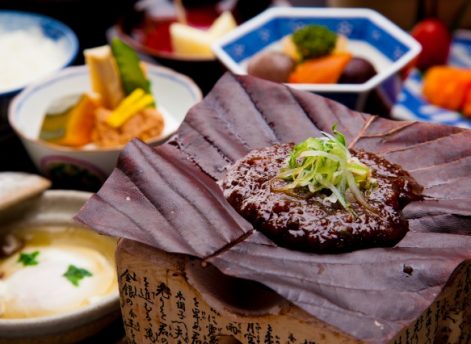 Enjoy a blissful breakfast at our inn in an historical structure of the World Heritage site Shirakawa-go
"Hohba miso grill" using home-made miso handed down over 100 years is a main dish of the inn's breakfast. This dish using a lot of local vegetables and mild seasoning has long been a favorite of many guests who often comment, "I just can't stop eating rice!" or "I want to take it home!"
Service period
:
All year round
Please call us to confirm.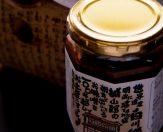 We commercialized our home-made miso in 2014 in response to customers' strong demand.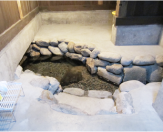 Spring water wells up right inside our inn, the only such place in Shirakawa-go.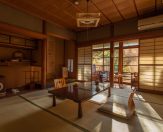 The traditional atmosphere give you a travel back in time.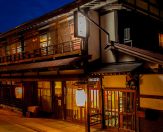 Building reflects the style of late Meiji around 1900 with accommodating capacity of 4 couples a day.
Shichihokan
Takane-machi, Takayama City
Address
:
290 Takanemachi-Kamigahora, Takayama City[Map]
Phone Number
:
0577-59-2326
Opening Hour
:
For booking, please call us between 10:00 to 18:00.
Holiday
:
Closed on Wednesdays only for day trip bathing
Access
Approx. 50 minutes by car from JR Takayama Main Line "Takayama Station"
Approx. 3 minutes walk from Nohi Bus "Kamigahora" bus stop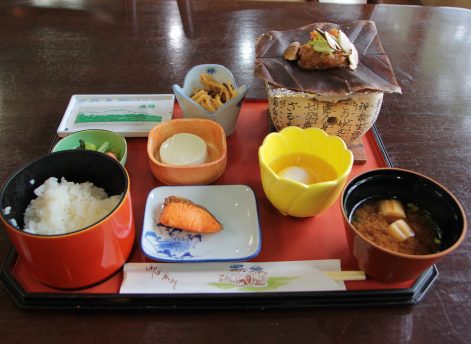 The taste that is our pride has been served for breakfast since our establishment opened
"Shichihokan" is an inn in Shiozawa Hot Spring located on a road leading to the Nomugitoge Pass, at the elevation of 1,000 m with a fantastic view. In addition to our dinner menu making generous use of Hida beef, wild vegetables, etc., our Japanese breakfast featuring "hohba miso" has been popular since our establishment opened.
Service period
:
All year round
Please call us to confirm.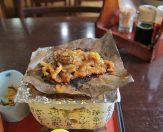 Local leek, mushrooms, etc. are used to prepare Hohba miso.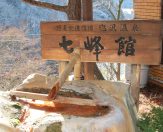 Carbonated spring is good for your skin with its moisturizing effect.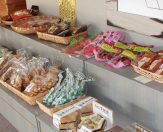 We offer Hida specialties for sale in the lobby area.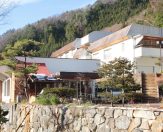 Good location to start travelling to stone Buddhist image or Nomugitoge Pass.