Shops where you can eat treats, shops you can buy
Kasuga Morimori-mura Refresh-kan
Ibigawa Town, Ibi County
Address
:
3429 Kasuga-Rokugo, Ibigawa Town, Ibi County[Map]
Phone Number
:
0585-58-0001
Holiday
:
Wednesdays (or following day if a national holiday falls on Wednesday)
Access
Approx. 30 minutes by car from Tokai-Kanjo Expressway "Ono-godo IC"
Approx. 25 minutes by community bus from "Ibi Station" of Yoro Railway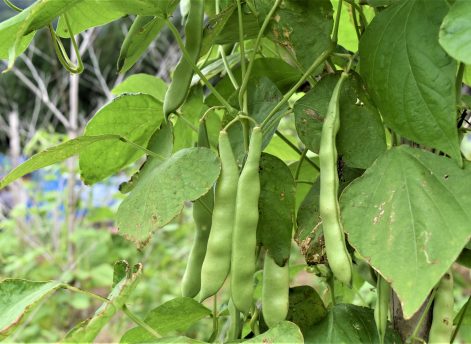 Even if you eat the beans in the immature state before they grow big, it is delicious!
Some Kasuga beans have mottled beans with their pods red-purple or black stripes, and others have white beans with their pods no-stripes.
You can eat them as a whole the pod because the pods have no fibers. So they can be deliciously cooked by any ways such as boiling them with salt, dressing them with miso (soybean paste), ohitashi (boiled and seasoned), or tempura (deep fried).
In addition, dried beans, which are dried together with the pods and then removed from the pods, are cooked by soaking them in water and boiling like kintoki (red kidney) beans.
Service period
:
From October to November
Please call us to confirm.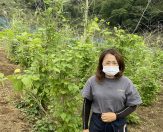 Ms. Yamada is a producer who preserves the seeds that have been passed down through the local climate and the efforts of his ancestors.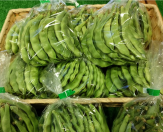 He has cultivated mainly as self-consumption. Their pods are not streaked.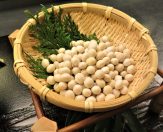 and easy to eat. Dried Kasuga beans are also sold.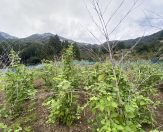 In the old days, they were planted between tea trees and cultivated by crawling along tea trees.
Kissho Robata, Japanese Restaurant at Gifu Grand Hotel
Nagara, Gifu City
Address
:
648 Nagara, Gifu City, Gifu Prefecture (near the Nagara River)[Map]
Phone Number
:
058-233-1125
Opening Hour
:
17:00~22:00 (Last orders: 20:30 [courses] / 21:30 [single dishes])
Note: The Japanese restaurant Kissho serves lunch from 11:30~14:30(Lo.13:30) and dinner from 17:00~21:00(Lo.19:30)
Holiday
:
Tuesdays (open if it's a national holiday)
Parking Capacity
:
250 cars
Access
Approx. 15 minutes by car from Meitetsu Gifu Station or JR Gifu Station
※A free shuttle bus is also available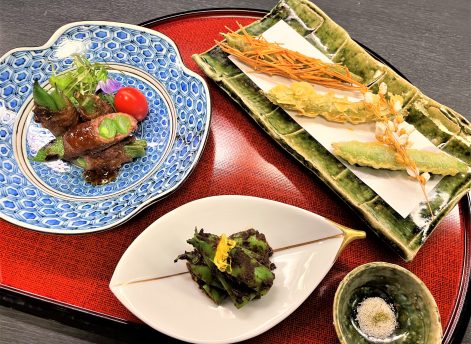 We bring out the unique flavor of Kasuga beans and their charm that can be cooked in the whole pods.
Kasuga beans swollen in the firm pods are bright and fresh green color. Young Kasuga beans can taste good with the pods.
We offer carefully grown ingredients in dishes such as "Fried Kasuga Beans," "Kasuga Beans rolled by Beef," and "Kasuga Beans dressed with Miso."
They go well with rice and local sake from Gifu.
Service period
:
From October to mid-November
Please call us to confirm.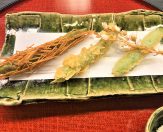 Three kinds of fried Kasuga Beans: Tempura, Almond Fried,
Mino Fried (fried with thin sliced other vegetables), and served
with Sanshojio (salt with red chili) from Hida region Kasuga Beans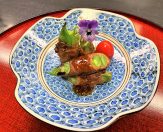 rolled by Hida Beef served with citrus sauce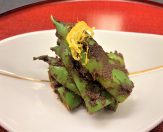 Kasuga Beans dressed with local Miso Hari Yuzu citrus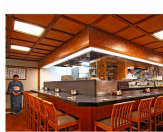 Counter seats and table seats are available in the restaurant