Shops where you can eat treats, shops you can buy
Kasuga Morimori-mura Refresh-kan
Ibigawa Town, Ibi County
Address
:
3429 Kasuga-Rokugo, Ibigawa Town, Ibi County[Map]
Phone Number
:
0585-58-0001
Holiday
:
Wednesdays (or following day if a national holiday falls on Wednesday)
Access
Approx. 30 minutes by car from Tokai-Kanjo Expressway "Ono-godo IC"
Approx. 25 minutes by community bus from "Ibi Station" of Yoro Railway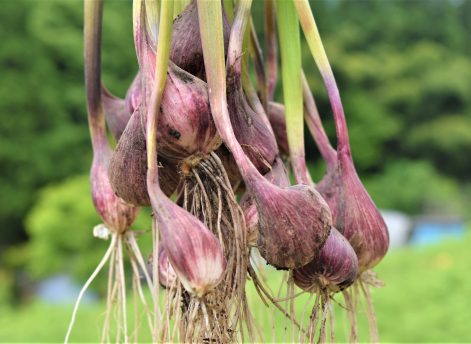 Created by the locals, this vegetable has a crisp texture and irresistible spicy kick that's just right! Feast on it with piping hot rice or as a side dish with a drink.
Konburi is a vegetable that took root long ago in the Kasuga region of Ibigawa Town, mainly. It is resistant to damage from snow and wildlife. If you want to enjoy its crisp texture and unique spiciness, it's best to eat it raw with miso. The spiciness mellows out when you heat up the konburi instead, bringing out a sweetness that makes it easy to eat. It's a convenient ingredient that you can use in a variety of dishes, such as tempura and stir-fry.
Service period
:
From May to September
Please call us to confirm.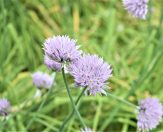 These are the pink-purple konburi flowers that bloom from May to June.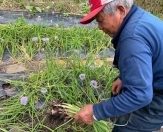 Asatsuki chives wither during winter and sprout once again in the spring. When their flowers bloom, the bulbs (konburi) are growing large.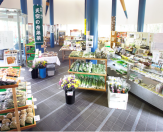 Local specialties, such as fresh vegetables grown in the area and bath salts, are sold here.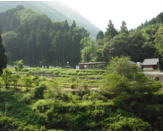 This physic garden is just next to the Refresh-kan Take a walk and delight in the variety of medicinal herbs there.
Kissho Robata, Japanese Restaurant at Gifu Grand Hotel
Nagara, Gifu City
Address
:
648 Nagara, Gifu City, Gifu Prefecture (near the Nagara River)[Map]
Phone Number
:
058-233-1125
Opening Hour
:
17:00~22:00 (Last orders: 20:30 [courses] / 21:30 [single dishes])
Note: The Japanese restaurant Kissho serves lunch from 11:30~14:30(Lo.13:30) and dinner from 17:00~21:00(Lo.19:30)
Holiday
:
Tuesdays (open if it's a national holiday)
Parking Capacity
:
250 cars
Access
Approx. 15 minutes by car from Meitetsu Gifu Station or JR Gifu Station
※A free shuttle bus is also available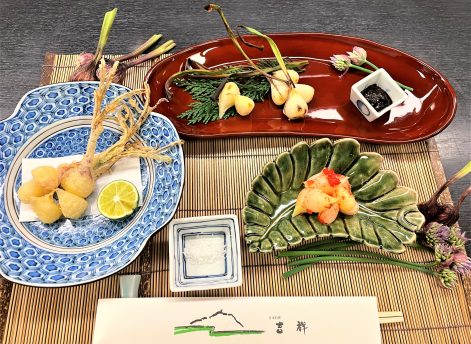 We've created a konburi meal that lets you savor the flavor of the ingredients and goes great with local sake.
Konburi—a close relative of the asatsuki chive—is simple and well-suited to preparations that take advantage of the flavor of ingredients.
Three dishes using them are served at Robata: konburi tempura, konburi with local miso, and konburi dressed with plum pulp.
Each is prepared in a different way—fried, grilled, and boiled—and all of them pair perfectly with local sake.
Service period
:
From mid-May to late June
Please call in advance when ordering.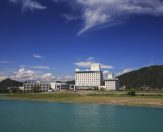 The hotel directly overlooks the beautiful scenery of the clear Nagara River, Mount Kinka, and Gifu Castle.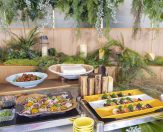 Its breakfast buffet is overflowing with local produce, including traditional Hida and Mino vegetables.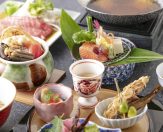 Mino medicinal dishes have been improved in the past 20 years or so and are popular not only for their deliciousness but also for their healthiness.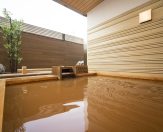 Nagaragawa Onsen's hot springs have a unique dark reddish-brown hue. Bathing in them is said to be effective for neuralgia, recovering from fatigue, and other ailments.