Shops where you can eat treats, shops you can buy
Kasuga Morimori-mura Refresh-kan
Ibigawa Town, Ibi County
Address
:
3429 Kasuga-Rokugo, Ibigawa Town, Ibi County[Map]
Phone Number
:
0585-58-0001
Holiday
:
Wednesdays (or following day if a national holiday falls on Wednesday)
Access
Approx. 30 minutes by car from Tokai-Kanjo Expressway "Ono-godo IC"
Approx. 25 minutes by community bus from "Ibi Station" of Yoro Railway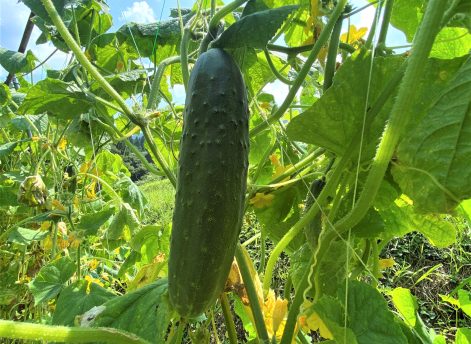 They're simply huge! These rare cucumbers are thick and soft inside, and they cook up amazingly well.
They have a thicker flesh than regular cucumbers, along with a lighter flavor and less of a grassy smell.
The young and unripe ones are delicious raw, if you thinly slice them for vinegared or pickled dishes, for example. However, we recommend cooking the ripe yellow ones in heat to bring out their surprisingly soft texture. Try them in a stew or stir-fry!
Service period
:
From July to September
Please call us to confirm.
Mr. Bando has been growing these rare Kasuga cucumbers in the Kasuga region for many years.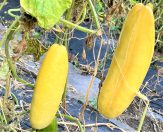 A ripe yellow Kasuga cucumber. Remove the skin with a peeler, take out the seeds, and cook it with heat for a thick and smooth texture.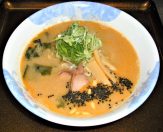 This spicy ramen is Morimori-mura's specialty. It's a great balance of medicinal herb extracts like hypericum erectum, angelica acutiloba, Japanese mugwort, and chameleon plant, paired together with a broth such as tonkotsu or chicken.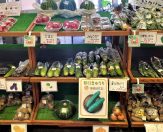 The shop offers a wide selection of fresh, locally grown vegetables.
Kissho Robata, Japanese Restaurant at Gifu Grand Hotel
Nagara, Gifu City
Address
:
648 Nagara, Gifu City, Gifu Prefecture (near the Nagara River)[Map]
Phone Number
:
058-233-1125
Opening Hour
:
17:00~22:00 (Last orders: 20:30 [courses] / 21:30 [single dishes])
Note: The Japanese restaurant Kissho serves lunch from 11:30~14:30(Lo.13:30) and dinner from 17:00~21:00(Lo.19:30)
Holiday
:
Tuesdays (open if it's a national holiday)
Parking Capacity
:
250 cars
Access
Approx. 15 minutes by car from Meitetsu Gifu Station or JR Gifu Station
※A free shuttle bus is also available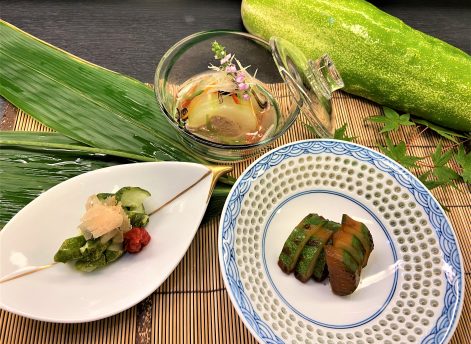 Raw, dried, and cooked!
These fresh dishes will bring out your appetite and give you a taste of summer.
Crisp, dense Kasuga cucumbers have a great crunch, and these dishes featuring raw ones both dried and pickled in miso really bring out their flavor.
In the third dish, they're cooked until soft so they really absorb the dashi stock they're boiled with, which adds even more deliciousness.
These three dishes—featuring Kasuga cucumber spiralized, pickled in miso, and boiled in a special process called "hisui-ni" that's meant to make the dish a jade color—truly take advantage of the cucumbers' best attributes. Pair them with a cold glass of Gifu sake!
Service period
:
Available around July and August
Castle, a French restaurant with a view
This restaurant boasting a panoramic view is on the hotel's top floor. Enjoy a delicious meal here while you take in the spectacular views of Mount Kinka and the Nagara River right before your eyes.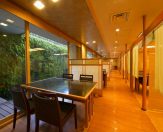 Kissho, a Japanese restaurant
This restaurant is well-loved for everything from its kaiseki dishes filled with ingredients from Mino and Hida to its healthy medicinal dishes (reservation required for the latter).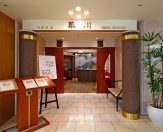 Kasen, a Chinese restaurant
From the four major cuisines of China to the fan-favorite yum cha, this restaurant uses seasonal ingredients and delivers authentic flavors in all of their dishes. They offer tons of them that'll satisfy all five senses.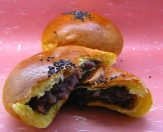 Anpan, the hotel specialty
This anpan is sold daily in the hotel's lounge, Kirara. To make it, brioche dough is packed with coarse bean paste made from Hokkaido's finest azuki beans. You can also reserve these by phone.
Tel.: 058-233-1111 (switchboard)
Gifu Grand Hotel