Shops where you can eat treats, shops you can buy
Keichan Restaurant Suginoko
Ogawa, Gero City
Address
:
1311-1 Ogawa, Gero City[Map]
Phone Number
:
0576-25-7011
Access
Approx. 60 minutes by car from Chuo Expressway "Nakatsugawa IC"
Approx. 5 minutes by car from JR Takayama Main Line "Gero Station"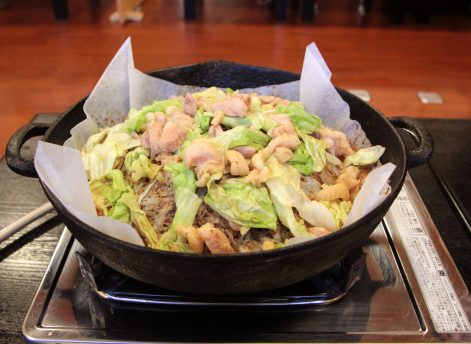 One dish provides three tastes
Simple ingredients, leg of local Ena chicken and cabbage, topped with a secret-recipe soy sauce with garlic from Aomori, which is modified to fit a pan-fried noodles dish, and lastly formed into a tasty scorched chunk. One dish providing three unique yummy experiences is a local specialty we offer.
Service period
:
All year round
Please call us to confirm.
Finishing half, add noodles, and then enjoy scorched chunks.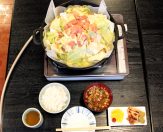 Keichan goes very well with beer or rice.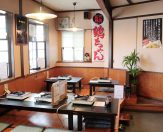 Each table has a cooking burner to offer steaming hot dishes.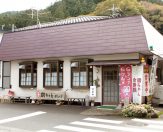 We are a member of "United Shops of Keichan".
Houkaen
Hachiman-cho, Gujo City
Address
:
5-15-4 Hachimancho-Ono, Gujo City[Map]
Phone Number
:
0575-67-0591
Opening Hour
:
11:00~15:00/17:00~21:00
Holiday
:
Wednesdays (or following day if a national holiday falls on Wednesday)
Access
Approx. 8 minutes by car from Tokai-Hokuriku Expressway "Gujo-Hachiman IC"
A short walk from "Hachiman Chugakko-mae (Junior High School)" bus stop of Gujo-Hachiman Community Bus (Mame-Bus)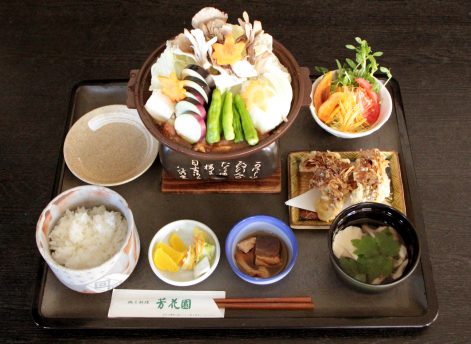 Keichan dish of local Okumino chicken prepared in Gujo miso paste
We began serving the dish in 1995 in an effort to popularize local "Okumino chicken" and its unique texture and richness. We spent five years in total to develop our special sauce by finely mixing home-made Gujo miso and spices. We also use a variety of local vegetables to complete the dish.
Service period
:
All year round
Please call us to confirm.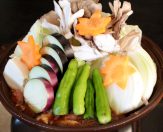 Abundant local vegetables and mushrooms are also in the cooking pot.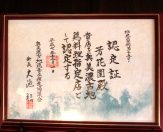 We are certified as a designated restaurant handling Okumino chicken.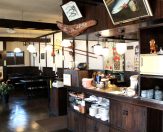 We offer a relaxing atmosphere in our table and tatami seating areas.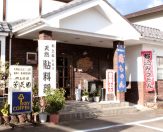 We serve natural sweetfish, Hida beef and other local dishes.
Restaurant Taki, 48 Falls Hot Spring Shibukinoyu Yuyukan
Kokufu-cho, Takayama City
Address
:
964 Kokufucho-Utsue, Takayama City[Map]
Phone Number
:
0577-72-5526
Opening Hour
:
Restaurant opens 11:00~20:00 (weekdays) / 11:00~20:30 (Saturdays, Sundays and national holidays) (Last order will be before 30 minutes before the closing time)
Holiday
:
Thursdays (or Friday if a national holiday falls on Thursday)
Parking Capacity
:
150 cars
Access
Take Prefectural Route 479 from National Route 41 by car
Approx. 10 minutes by shuttle bus (3 buses available/ day) from JR Takayama Main Line "Hida-Kokufu Station"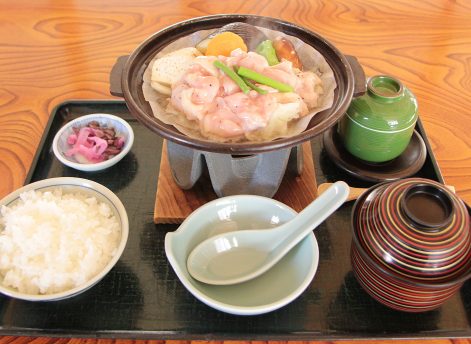 Enjoy the unique taste of "Salt Keichan Set Dish"
We arranged miso-based "Keichan" with a salty flavor to offer a chance to more tourists to enjoy our favorite local food. Since we began serving it in April 2015, it has been a popular dish also because of the ingredient of "Komo dofu (tofu)" absorbing the tasty sauce.
Service period
:
All year round
Please call us to confirm.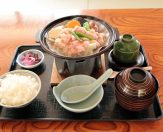 Excellent matching of ingredient's umami and salty taste.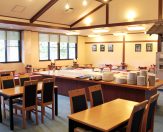 Restaurant "Taki" offers a relaxing time.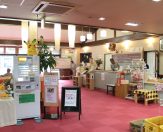 The facility has an outdoor hot spring and bedrock bathing also.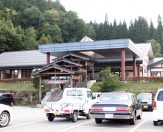 Nearby also are the hiking course for Utsue 48 Waterfalls and camping fields.