Shops where you can eat treats, shops you can buy
Togetsuen
Takehana-cho, Hashima City
Address
:
2631-1 Takehana-cho, Hashima City[Map]
Phone Number
:
058-391-2562
Access
Approx. 10 minutes by car from Meishin Expressway "Gifu-Hashima IC"
Approx. 8 minutes walk from Meitetsu Takehana Line "Hashima-shiyakusho-mae Station"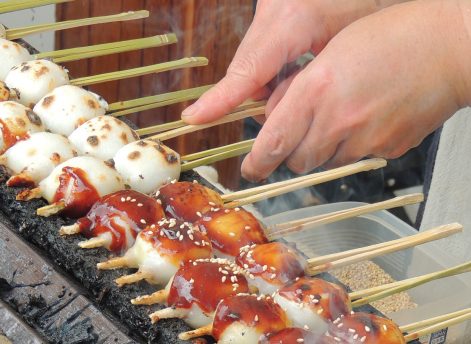 The deep taste of an elaborate double baking finish
Rice power dumpling containing strained bean paste is grilled once and then again with semi-sweet red miso paste applied on it. This process helps the dumpling and miso to be matched to enhance the taste. It is served only from late April to mid-August. Many costumers return to enjoy it each year.
Service period
:
From late April to mid-August
Please call us to confirm.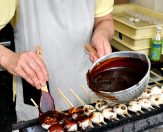 All carefully selected ingredients are domestic.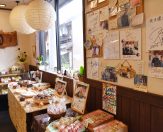 We have been featured by media repeatedly and visited by some celebrities.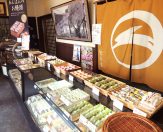 Popular also are rice cake varieties called "Kawari daifuku" and "Anpan omanju".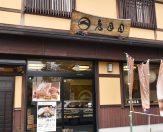 We are loved by locals and visitors from distant places.
Kashidokoro Irifune
Fukuju-cho, Hashima City
Address
:
3-51 Fukujucho-Asahira, Hashima City[Map]
Phone Number
:
058-392-2952
Access
Approx. 3 minutes by car from Meishin Expressway "Gifu-Hashima IC"
Approx. 10 minutes walk from JR Tokaido Shinkansen "Gifu-Hashima Station"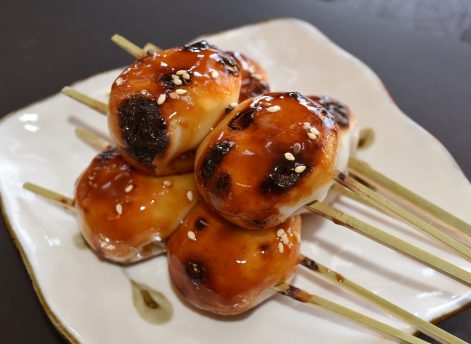 An excellent combination of soft, sticky dumplings with home-made red miso paste
Rice powder used for the dumpling with strained bean paste is directly supplied by local farmers. It provides the popular soft and sticky texture. We bake it with fire while applying red miso sauce at the shopfront to serve sizzling hot dumpling to our customers. It can be enjoyed only from early May to end of September.
Service period
:
From early May to late September
Please call us to confirm.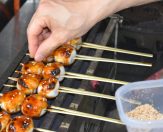 Sesame is sprinkled on freshly grilled dumplings to enhance the flavor..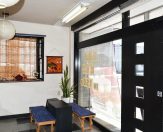 A little space for you to sit down and enjoy the freshly grilled.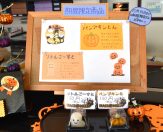 We continue to offer new products of the season.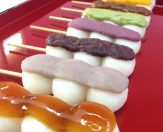 Popular also is "Irodori dango", which is sold all year round, with pastes in different colors.